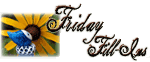 1. Snow
makes me feel calm
.
2. I'm looking forward to
finishing my sewing projects and seeing the recipients' reactions
.
3.
Chocolate covered pretzels
(is) *are* the best
holiday creation
ever!
4. One of my favorite old tv shows is
Get Smart
or Red Dwarf

.
5. I'm done with
keeping the house spotless, I haven't got time when I get busy like this.
6. The most enjoyable thing around the holidays is
spending time with folks
.
7. And as for the weekend, tonight I'm looking forward to
possibly finishing the blanket I started lastnight
,
tomorrow my plans include
more sewing!
and Sunday, I want to
sleep
!